Aleksandrs Nasikailovs, Our Executive Chef with 15 years of culinary journey, he worked at Vincent Restaurant, the famous grand dame of fine dining in Riga, Latvia, where he got to travel around the world to find the perfect taste for every dish he serves.
With his 2 years experience of working in Thailand at Baltic Blunos, he is ready to take Baltic Cuisine to another level with a little twist from the local ingredients at The White House Bangkok, where he put in the creativity the same way he did at The White House Restaurant in Latvia, where people can enter as in a new world and experiences beauty - in the design, and finally in the food, which taste comes not only just form our fresh ingredients, but also in our aesthetic and design of every bowl and plate. Aleksandrs pays closes attention to every facet, from kitchen to table, serving a memorable culinary and sensory experience that will capture each of our guest's hearts each time they visit The White House Bangkok.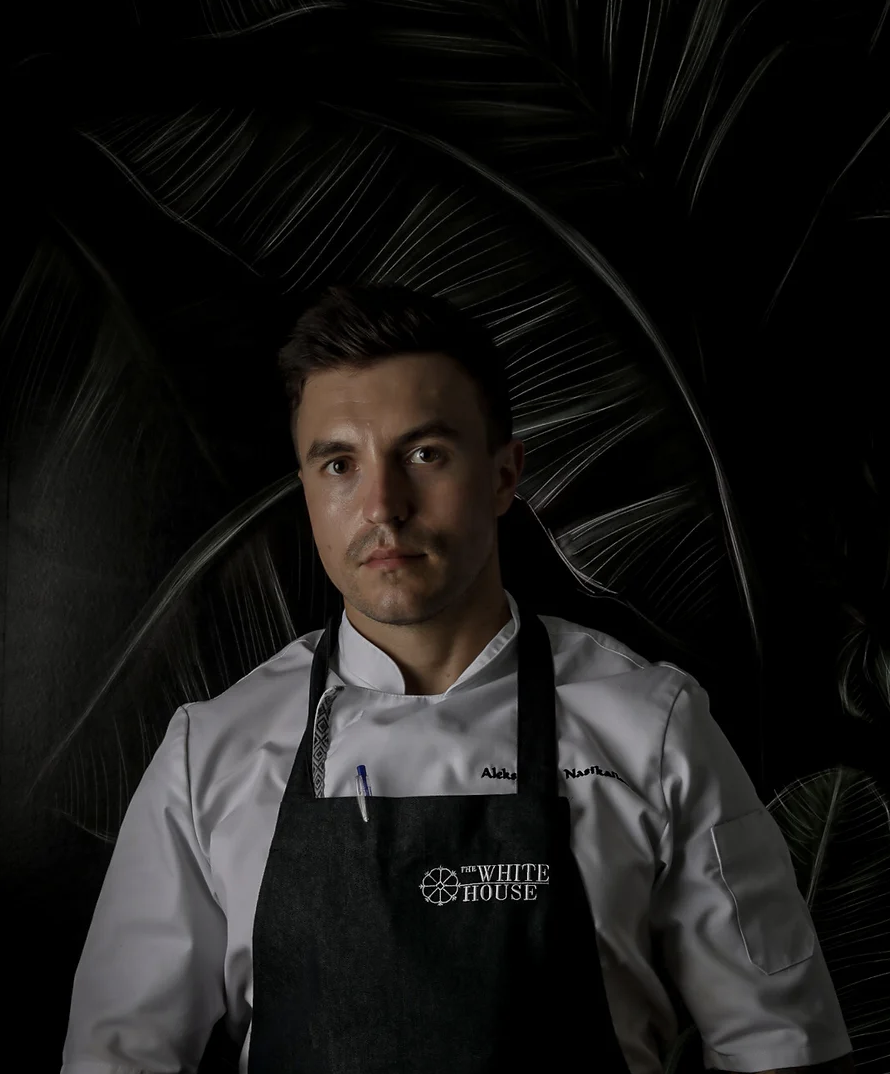 Be dazzled by The White House's fine dining set menu and creative cocktail pairings
Those who remember dining at Baltic Blunos will no doubt recall Chef Aleksandrs Nasikailovs, a man of few words who ran the kitchen there alongside Chef Martin Blunos. Now, Aleks is on his own as the Executive Chef helming the kitchen at The White House, on Sukhumvit Soi 16, where the 2nd floor level offers a 10-course gourmet tasting menu (THB 4,000++) that incorporates many Latvian culinary flourishes. Each dish is meticulously prepared and presented: from starters such as the catfish roe charcoal tartlet and the grilled mackerel with smoked mackerel mousse, to delectable entrées like the wonderful French quail with mushroom sauce and sweet potato, the duck liver tortellini with pickled grape and birch "ant" syrup, and the Tasmanian lamb rack with peppercorn sauce. The evening finishes on a sweet note with Chef Alek's own handmade, bizarrely flavoured chocolates, and to complement it all head mixologist Kei Sawada – the gin genius from Salon du Japonisant bar – concocts wildly creative course-by-course cocktail pairings (THB 1,500++) making ample use of the bar's hi-tech rotary evaporator. Currently, the restaurant is open Thursday to Saturday only, but a romantic exception is being made for Valentine's Day (with special menu).
The White House Bangkok experience, even at its early stages has formed a pretty cool dynamic, especially one that is least expected. Overall a thoroughly enjoyable way to spend an evening (accompanied with great live musical entertainment ), we would be more than happy to visit again.
Sit down and expect exquisitely crafted plates to arrive before your eyes. The 10-course meal kicks off with delectable Bites comprised of catfish roe charcoal tartlet, beetroot cracker with salmon mousse and roe, blue crab donuts, and slow-cooked pork rillettes. The four bites are paired with a welcome drink called Midnight Cruise, a gin-based drink that balances aromatic lavender and elderflower with yuzu.
The 10-course menu (The White House Experience B4,000++ per person, cocktail pairing B1,500++), though this changes depending on the availability of ingredients, begins with small bites. A foie gras pillow is served with roasted hazelnuts, catfish roe on a charcoal tartlet, black mussels with smoked mussel sauce and a beetroot cracker with salmon mousse and salmon roe. The bites are paired with a delicious Midnight Cruise cocktail.

https://www.bangkokpost.com/life/social-and-lifestyle/2288714/baltic-times
Despite the elegant food, the restaurant is actually stylized as a smart-casual place where guests can come and enjoy either beautifully prepared tasting menus or tantalizing à la carte dishes. Diners can enjoy live music while savoring their food on the first floor or opt for a more intimate ambience on the second floor. Regardless of the setting, you're promised an amazing meal that's enhanced by artistic presentation and crockery that are handmade by the chef himself.

https://www.timeout.com/bangkok/restaurants/the-white-house
You must visit this joint some what like a bistro and well defined bakery in the front.

Food is incredibly presented and preparations for the same is very innovative. As I had crispy kale with papaya salad but papaya was cut and induced in the dish in form of Rolls along with base tasted and textured very close to humus but not actually Humus for sure.

Beef fried rice, another great options but can't comment as its was consumed by my friend.

By look-- very tempting.

Last but not the least , Goat cheese cake is the actual showstopper. You want to eat until stock finishes.
SONBIR KUMAR
I strongly believe the culinary scene in bangkok has gained a new shining star ! Congrats to Chef Alex and his team providing us an excellent dining experience. It started up with awesome cocktails from the fun filled cocktail bar where expert bar tenders create the most amazing cocktails. Dinner was excellent, very creatively presented food and super tasty. A culinary journey that embraces the heritage of Chef and thus a wonderful experience all through. Thanks also to great service team accompanying us through this journey. Absolutely loved it !
Sarphp
Latvian chef displays his creativity and finesse in the menu and plating. We end at lunch so didn't have the chance to try the course menu but had a chance to try some of their Ala carte items. The Asian dishes were also surprisingly delicious. And the desserts were 😘 Do try their in house made chocolates!
Jacq
The food was amazing. The presentation and the taste were top notch. Service was great; attentive staff. Chef Alex was very thoughtful and put lots of effort behind each dishes. We thought if you could improve the ambiance and the setting (e.g lighting, interior design) to match the 'fine dining' experience, your restaurant would be a hit!
Tukata K.
This place is a true gem. Exquisite balance in flavours, astonishing finishing touches in dishes presentation, refined drinks list, great service, price on the low side given the quality. As a connoisseur, I'm honestly surprised they aren't Michelin-starred yet.
I cannot recommend this place enough !
Guillem Catlla
Newest cafe in soi Sukhumvit 16 🙂 We tried the kale salad and lamb with basil fried rice as recommended by the staff, and they were very good 👍 Desserts look very good too. We tried the blueberry tart and we loved it. Not too sweet. We heard they have live jazz music every Thursday - Saturday nights too started at 8pm. We might try to come back for that some other times 🙂 🤍
Arbtip Dheeravongkit
4.5 stars for food and 3.5 stars for service. Latvian Chef is amazing, he combines art and culinary skills in every dishes. An experience for all foodies. Highly recommended! Kudos to Alexander and his team. Mocktail is overpriced. $$$$
Foodie World
Amazing experience with great Latvian inspired cuisine 🇱🇻 cocktails are excellent too and have been created to be paired the food. A must in Bangkok.
Art PI
Chef Alex performed culinary art at his finest tonight. We went for the full-course dinner and every dish was superb! We very much enjoyed the experience and the story behind the dished. Not just freshness of the ingredients chef alex has selected, Every dish has delicate touch of Latvia's legacy. One of the best restaurants in Bangkok. Great food, great cocktails and super attentive staff.
Thiantip Chuanprapun
I was here with my family a day ago, and I must say, I was taken away by a lot of things: the ambiance of the restaurant, the atmosphere of the restaurant, and the way the food was presented.

Alex (the head chef) is an extremely enthusiastic, passionate chef who loves what he does and he and his staff will do anything to make you feel welcome in the restaurant.

I strongly recommended coming over to this place.
M M

Open : Wednesday - Saturday
Dine in: 6pm- 11pm
199/8 Soi Sukhumvit 16,
Khwaeng Khlong Toei, Khlong Toei,
Bangkok 10110