Tasting menu
Looking for a restaurant that offers unique food experience for a special day?
Enjoy our executive chef Aleksander Nasikailovs' signature dishes featuring ingredients that you won't find in any other restaurant in Bangkok.
Taste of Latvia
Beetroot Cracker, Salmon Mousse, Salmon Roe
Latvian White Sturgeon Caviar Cone, Grilled Cucumber Sauce
Blue Crab Doughnuts, Pickled Cucumber, Horseradish Aioli
Wild Rabbit Rillette, Wheat Pillow, Chanterelle, Chipotle Sauce
White House Bread, Birch Husk
Sea Salted Butter, Lard with Crispy Onion
Hell Stone
Gillardeau Oyster, Homemade Raspberry Vinegar, Finger Lime
Grilled Mackerel
(Andaman Sea)
Smoked Mackerel Mousse, Sea Buckthorn, Grilled Quail Egg
Hand-dived deep-sea Scallops
(Britany)
Burnt Butter Hollandaise Sauce, Latvian White Sturgeon Caviar, Sea Foam
Duck Liver Tortellini
(France)
Porcini Cracker, Black Truffle, Birch Tree, Ant Syrup
Poached Cod
(North Atlantic)
Latvian Albino Sturgeon Caviar, black Mussel, Beetroot Croissant, Smoked Butter Sauce
On Charcoal Grilled Venison
(Latvia)
Caramelized Carrot, fermented Red Cabbage, Crispy Potato, Bone Marrow Sauce
Snow ball
Dragon Fruit Granita, Latvian Burdock Berry Mousse, Grape Fruit Ice Cream, Steamed Meringue
Dowry Chest
Homemade Chocolate
4,500 ++ person
All prices are subject to 10% service charge and 7% applicable government tax
A la Carte Menu
Either you are looking for off the beaten path food experience in Bangkok
or you like to explore new dishes or staple and good quality food we got you covered.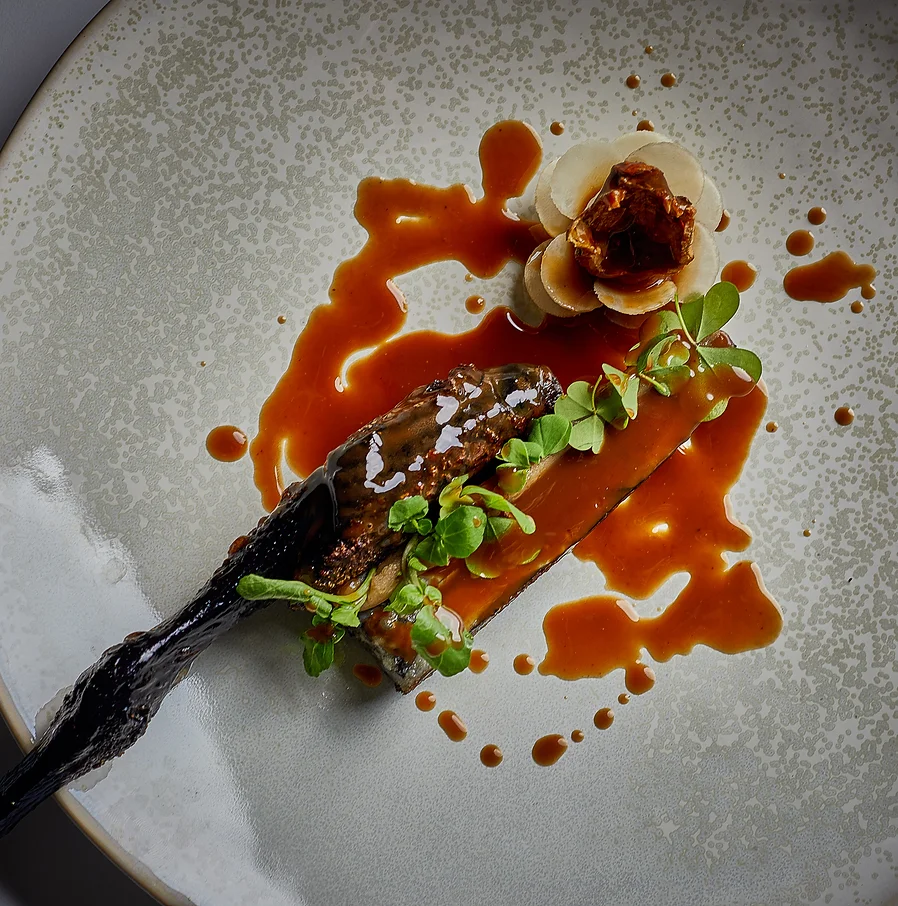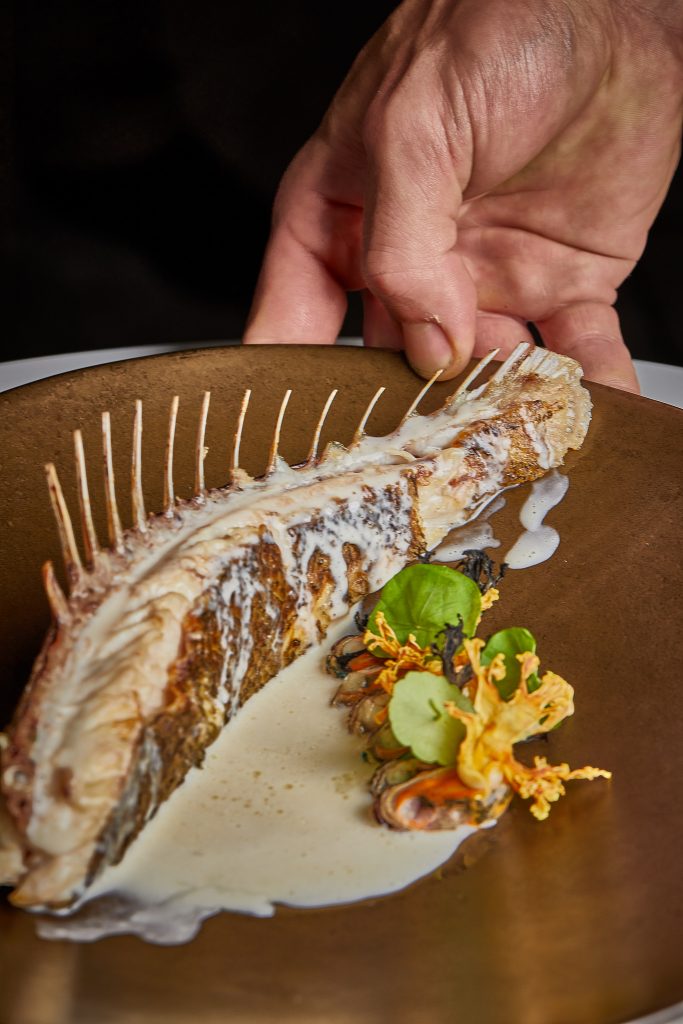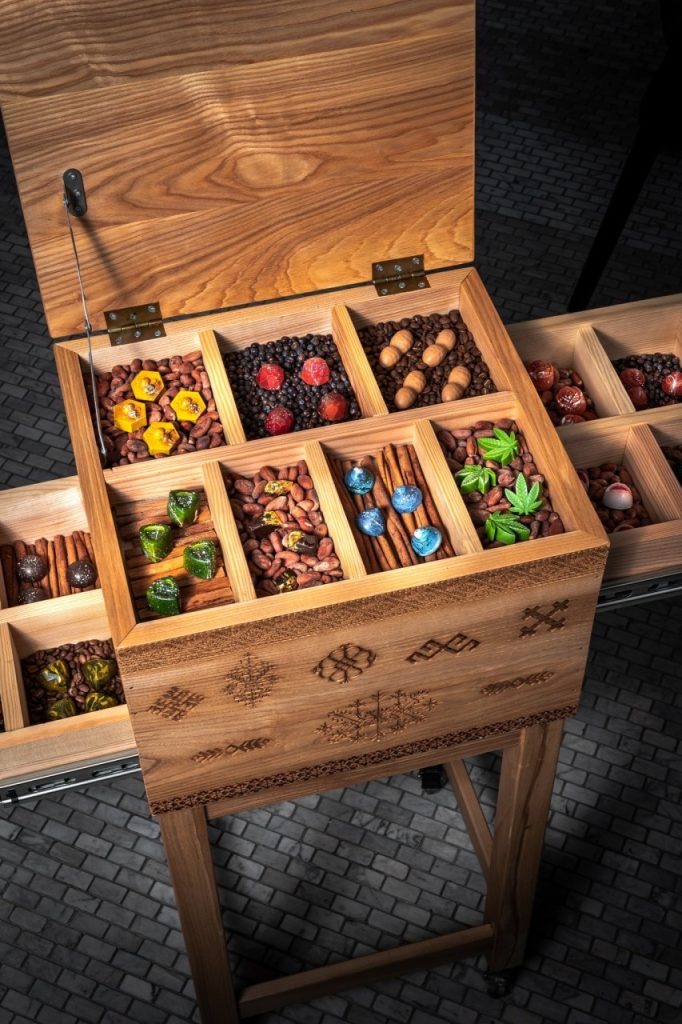 White House Bread Selection
(Sourdough, Caraway, baguette)
Sea Salt Butter, Lard with Crispy Shallot
220thb
Gillardeau oyster Nr.6 (1.pc) (France)
Homemade Raspberry Vinaigrette, Yogurt Pearl
200thb
Finger food Cocktail Set
Latvian White Sturgeon Caviar Cone, Latvian Chantarelle Butter Tart, Cold Smoked Salmon Basket
500thb
Blue Crab Doughnuts (3pc.)
Pickled Cucumber, Wasabi aioli, horseradish snow
370thb
Starters
Pumpkin Latvian hazelnut tortellini (V)
Caramelized butter, parmesan cheese, pickled gapes
490thb
Cashew nut Cheese (V)
Roasted Pistachio, Green Papaya, grilled Cucumber Sauce
490thb
White House Cold Smoked Ora King Salmon (New Zealand)
Horseradish, Salmon Mousse, Salmon Roe, Oatmeal
750thb
Grilled Mackerel (Andaman Sea)
Grilled Quail Egg, Smoked Mackerel Mousse, Sea Buckthorn Gel
650thb
Hand-dived Deep-sea Scallop (Japan)
Burnt Butter Hollandaise Sauce, Latvian White Sturgeon Caviar
890thb
Duck Liver Tortellini (France)
Porcini Cracker, Black Truffle, Birch Sap Syrup, Jackfruit
890thb
From the Sea
Langoustines (North Atlantic)
Seaweed Gnocchi, Caramelized Langoustine Bisque
1000thb
Wild cod (North Atlantic)
Latvian White Sturgeon Caviar, Black mussels Mussel, Beetroot Croissant, Smoked Butter Sauce
1000thb
From the Land
Quail (France)
Red Cabbage, Pickled Quail Egg, Latvian Porcini Sauce
1000thb
Roasted Suckling Pig (Thailand)
Caramelized Apple Sauce, Dilled Latvian Potato, Pork Jus
1000thb
Grilled Ostrich (Thailand)
Beetroot croissant, Eggplant, Potato Crisp Shiraz Wine Sauce
1,000thb
Rack of Lamb (Australia)
Caramelized Baby Carrot, Black Garlic Paste, Lamb Jus
1,100thb
Wagyu Striploin (mb 8-9) (Australia)
Slow Cooked Short Rib, Bone Marrow, Potato Croissant, Green Peppercorn Sauce
1,300thb
Blue Crab Linguini
Homemade Black Garlic Pasta, Yellow Curry Bisque Sauce, Parmesan Cheese
950thb
Dessert
Snow Ball
Dragon Fruit Granita, Latvian Burdock Berry Mousse, Passion Fruit Ice Cream, Steamed Meringue
370thb
Latvian Honey Cake
Latvian Honey Cake, Fermented Honey, Tonka Bean Ice cream, Mixt Berry Sauce
370thb
Blue berry
Burned white chocolate buckwheat ice cream
370thb
Homemade Ice Cream (scoop)
150thb
V- vegetarian
All Prices are subject to 10% service charge and 7% applicable government tax
By the Glass
Sparkling
Bottega Rose DOC Brut, NV (Italy), 400thb
Bottega Moscato Vino Dell' Amore, NV (Italy), 400thb
Seppelt Fleur De Lys Brut, NV (Australia), 350thb
White Wines
Clos D' Agon Amic, Spanish Blanco Blend, 2016 (Spain), 450thb
19 Crimes, Hard Chard, Chardonnay, 2020 (Australia), 450thb
Riverby Estate, Riesling, 2011 (New Zealand), 450thb
Alta Mora Etna Bianco, Carricante, 2019 (Italy), 450thb
Pã Road, Sauvignon Blanc, 2022 (New Zealand), 450thb
Red Wines
Ropiteau, Pinot Noir, 2020 (France), 450thb
Rosso Piceno Marche IGT, Merlot, 2017 (Italy), 450thb
Robert Mondavi, Cabernet Sauvignon,2019 (USA), 450thb
Brolio Chianti Classico, 2018 (Italy), 450thb
Bocca Della Verita, Primitivo, Puglia, 2019 (Italy), 450thb
Consentino Zinfandel "The Zin", Zinfandel, 2019 (USA), 450thb
Dessert Wine
Joh. Jos Prum Mosel, Bernksateler Badstube Riesling Spatlese, 2018(Germany), 450thb
Rosé Wine
Piano, Piano Rosato, Sangiovese (Italy), 450thb
By Bottle
Red Wines
Dominus, Ch Moueix, Cabernet Sauvignon, Napa Valley, 2015 (USA), 20000thb
Penfolds, RWT Bin798, Shiraz, BarossaValley, 2017 (Australia), 10000thb
Tignanello Antinori, Cabernet Sauvignon, Tuscany, 2019 (Italy), 9500thb
Luce Della Vite Luce Brunello Di Montalcino, Sangiovese, Tuscany, 2016 (Italy), 9000thb
Chryseia, Douro Valley, Touriga Nacional, 2015 (Portugal), 8000thb
Duckhorn, Cabernet Sauvignon, Napa Valley, 2019 (USA), 4500thb
Luce Della Vite, Blended, Tuscany, 2017 (Italy), 4200thb
Viña Vik Milla Cala, Blended, Cachapoal Valley, 2018 (Chile), 3500thb
Insoglio Del Cinghiale, Blended, Tuscany, 2020 (Italy), 3000thb
Vigneti Del Salento Zolla, Primitivo, Puglia, 2020 (Italy), 2500thb

Dessert Wines
Château Rieussec, Sauternes, Muscadelle, 2016 (France), 6100thb
Greywacke Marlborough, Late Harvest Riesling-375ml, 2011 (New Zealand), 2800thb
Domaine Font Sante, Muscat, 2017 (France) 375ml
By Bottle
Champagne
Dom Perignon, Brut Champagne Vintage 2009 (France), 18000thb
Moet & Chandon Brut Imperial (MAGNUM),
NV (France), 15000thb
Perrier- Jouët Grand Brut (France), 8000thb
Champagne Diebolt-Vallois "Blanc de Blanc Prestige" (France), 7200thb
Champagne Veuve Clicquot Brut, NV (France), 7000thb
Louis Roederer, Collection 242 Champagne NV (France), 4490thb

White Wines
Maison Jessiaume Rully, Chardonnay, Burgundy, 2020 (France), 4000thb
Cloudy Bay, Sauvignon Blanc, Marlborough, 2021 (New Zealand), 3000thb
Cantina Terlan Winkl, Sauvignon Blanc, Trentino-Alto Adige (Italy), 2800thb
Voyager Estate, Chardonnay, Margaret River, 2019 (Australia), 2200thb
All Prices are subject to 10% service charge and 7% applicable government tax

Open : Wednesday - Saturday
Dine in: 6pm- 11pm
199/8 Soi Sukhumvit 16,
Khwaeng Khlong Toei, Khlong Toei,
Bangkok 10110